Ethos, Vision, Aims & Values
‍
Ethos
The Leys Primary and Nursery School is a welcoming, diverse, progressive and well-respected school in the community. We are committed to offering a challenging and nurturing culture within the school, where all children are inspired to achieve their full potential and develop into well rounded individuals. We are passionate about providing 100% commitment to our pupils and their families.
Vision Statement
We will build a community in The Leys where children are more than just educated and where all feel safe and supported. They will be empowered to change their own lives and the lives of those around them. They will be able to stand up and become pillars of the community, making a difference. We will be good role models who inspire through a love of learning and be motivated to make a positive impact on each other's lives. Together, we will continually strive to remove the barriers to success and fear of failure. We will provide a culture of mutual respect and acceptance with children moving onto their next venture with the skills and values to set them on the path to achieve their dreams. Our school will take pride in leading the children in The Leys on their journey - both educational and for life; enabling them to drive their own futures to greater success and shape our diverse community for the better.
Values and Aims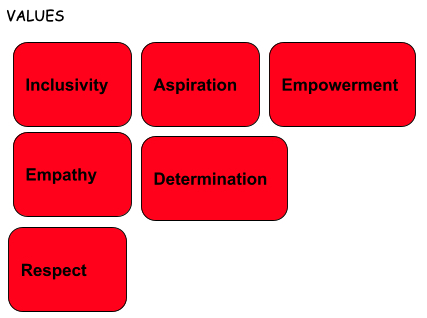 Inclusivity
We provide opportunities to learn, succeed and be happy that are equal for all children regardless of ability, gender, race or special need.

Empathy
We support pupils to strengthen relationships by understanding how we learn, feel and think differently.

Respect
We help children to learn tolerance and respect for other people, their beliefs and their belongings.

Aspiration
We provide a caring, secure and stimulating learning environment where pupils are happy and confident as they aspire to achieve.

Determination
We teach our pupils if you don't succeed at first in what you are doing, try it over and over again until you get it perfect and how you want it.

Empowerment
We develop self-esteem, self-discipline, self-respect and confidence to meet the changes and challenges in their life ahead, and so that they are ready for the next stage of their education.