Mental Health and Wellbeing

For urgent mental health help or if you need to urgently speak to someone, Call the Single Point of Access (SPA)
Tel: 0800 6444 101 available 24 hourly.
Email: hpft.spa@nhs.net
www.hpft.nhs.uk
‍

Newsletter Summer 2022
Newsletter Spring 2022
Newsletter Autumn 2021
‍

What is mental health?

'Mental health is a state of wellbeing in which an individual realises his or her own abilities, can cope with the normal stresses of life, can work productively and fruitfully and is able to make a contribution to his or her community.'
'World Health Organisation 2004'

'Mental health, in effect refers to the capacity to live a full, productive life as well as the flexibility to deal with its ups and downs.  In children and young people it is especially about the capacity to learn, enjoy friendships, to meet challenges, to develop talents and capabilities.
'Young Minds'
‍

What is wellbeing?

Wellbeing is 'a positive state of mind and body, feeling safe and able to cope, with a sense of connection with people, communities and the wider environment.
'World HealthOrganisation 2007'
‍

What are the risk and protective factors for children?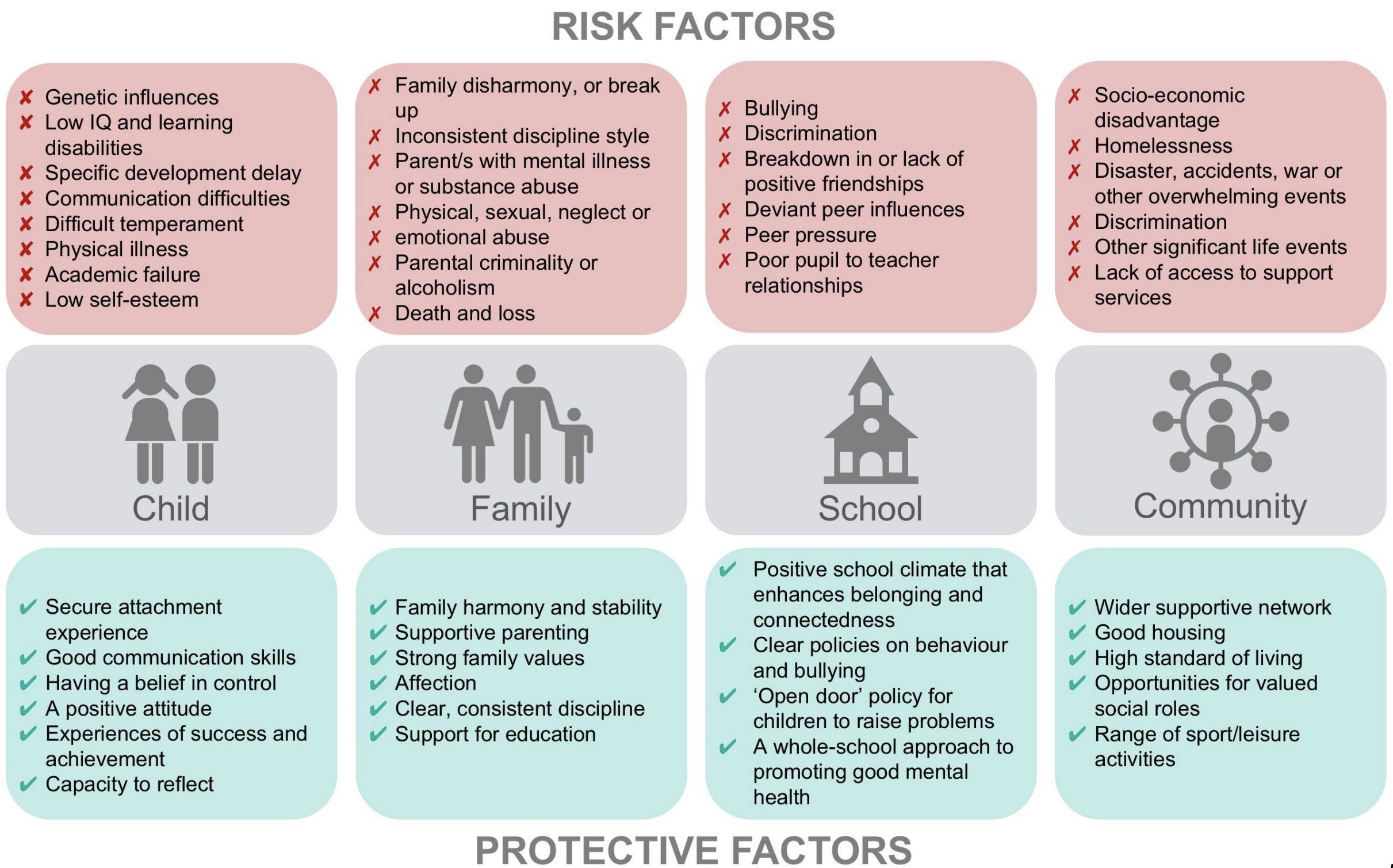 What can we all do to help build positive mental health?

The Five Ways to Wellbeing

Connect

There is strong evidence that indicates that feeling close to, and valued by, other people is a fundamental human need and one that contributes to functioning well in the world.

It's clear that social relationships are critical for promoting wellbeing and for acting as a buffer against mental ill health for people of all ages.

With this in mind, try to do something different today and make a connection.

- Talk to someone instead of sending a text message
- Speak to someone new
- Ask how someone's weekend was and really listen then they tell you
- Walk to school with a friend

Be active

Regular physical activity is associated with lower rates of depression and anxiety across all age groups.

Exercise is essential for slowing age-related cognitivedecline and for promoting well-being.

But it doesn't need to be particularly intense for you to feel good - slower-paced activities, such as walking, can have the benefit of encouraging social interactions as well providing some level of exercise.

Today, why not get physical? Here are a few ideas:

- Go for a walk or run at lunchtime
- Walk or cycle to school
- Have a kick-about in a local park
- Do some 'easy exercise', like stretching, before you leave for school in the morning or walk the dog

Take notice

Reminding yourself to 'take notice' can strengthen and broaden awareness.

Studies have shown that being aware of what is taking place in the present directly enhances your well-being and savouring 'the moment' can help to reaffirm your life priorities.

Heightened awareness also enhances your self-understanding and allows you to make positive choices based on your own values and motivations.

Take some time to enjoy the moment and the environment around you.
Here are a few ideas:

- Get a plant for your room or do some gardening
- Have a 'clear the clutter' day
- Take a different route on your journey to or from school

Learn

Continued learning through life enhances self-esteem and encourages social interaction and a more active life.

The practice of setting goals has been strongly associated with higher levels of wellbeing.

Why not learn something new today? Here are a few more ideas:

- Read a newspaper or a book
- Do a crossword or Sudoku
- Research something you've always wondered about
- Learn a new word or musical instrument

Give

Participation in social and community life has attracted a lot of attention in the field of wellbeing research.

Individuals who report a greater interest in helping othersare more likely to rate themselves as happy.

Research into actions for promoting happiness has shown that committing an act of kindness once a week over a six-week period is associated with an increase in wellbeing.

- Help fund raise for a charity
- Support a PTA event
- Offer to help an elderly neighbour
- Give your old toys or books to a charity shop

Don't forget eating healthily and a good night's sleep is also important.

Useful websites and apps for children and their parents

Films -Short films to help parents and children who may have a diagnosis, may be showing symptoms of a potential mental health condition or may be struggling as a result of the Covid 19 pandemic.

Lumi Nova - Effective Digital Therapeutic support for children with anxiety

Mental Health and Emotional Wellbeing Services and Resources

youngminds.org.uk - online resources & parent helpline

minded.org.uk - resources and online training

annafreud.org - national centre for children and families

sam-app.org.uk - self help app for anxiety

positivepenguins.com - app to help understand feelings and challenge negative thinking

talkwellbeing.co.uk - how to get help with mental health problems from Hertfordshire Wellbeing Team

justtalkherts.org - quizzes, parent top tips, support and information

healthyyoungmindsinherts.org.uk

Our latest Mental Health policy is available to view here