Attendance Guidance
Every School day counts towards a bright future



At the Leys we are passionate about providing the best possible education for your children...but we NEED YOUR HELP! . We have high expectations of attendance and punctuality! The lessons your child misses, are important.

Please find the link to our current policy.
Attendance Policy 2021-24

Attendance Awards Overview
‍
Please find below our recent Attendance Newsletters
End of Term 2022
Summer 2022
Autumn Term 2019
Spring Term 2019
Summer Term 2019
‍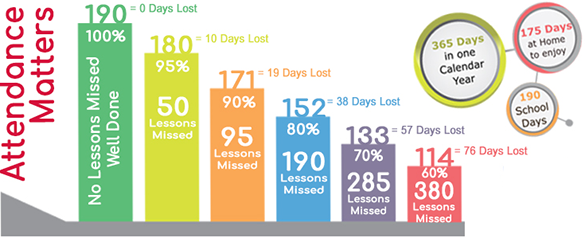 Our pupils are happy in school and enjoy their lessons, but they can't do it alone! We know sometimes children get poorly, and are genuinely not able to get into school, but on other occasions ask yourself:

What are the long term consequences of poor attendance?
‍

We know that we need to work together to prepare our children for the future. In a global world there will always be competition and hundreds of others will have the same ambitions as your child.

LET YOUR CHILD BE THE ONE WHO STANDS OUT FROM THE CROWD!!!!